Jennifer Costa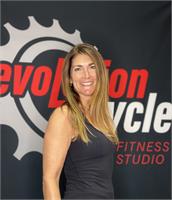 Jenn has been an East Brunswick resident for 25 years. She has been a lifelong fitness enthusiast, with passion and expertise in cycling, running, strength and endurance training, and healthy living. She has participated in numerous road races, endurance cycling events, competitive traveling tennis, and sprint triathlons.
She will motivate and inspire you to do things you may have thought not possible, She will encourage you and push you to explore and test your own limits. Her goal is to ensure each person in her class gets what they came for, and walks out feeling satisfied and empowered.
Professional highlights include:
NASM certified personal trainer, Schwinn certified cycling instructor, Annette Lang certified stretching specialist, TRX certified.
Jennifer Costa instructs the following:
45 minutes of HIIT (High Intensity Interval Training) targets the whole body for a stronger, leaner, more confident you. HIIT workouts are designed to torch maximum number of calories and continue the burn for hours after working out. We use dumbbells, Bosu Balls, TRX, Medicine Balls, Kettlebells, body weight exercises and balance and corework for a challenging total body workout. Please note, this circuit class is limited to 8 people, so sign up early!




Our classic format! Fifty minutes of an expertly designed cycling workout with music profiles that are carefully chosen to crank up the energy in the room and into your legs. This class uses terrain based techniques with attention to cadence, wattage, climbs, interval training and proper recoveries. Lose yourself in the rhythm of this beat driven ride.




Get a well-rounded workout in less than an hour with 25 minutes of cycling for by 25 minutes of strength training off the bike.




Begin your day with a sense of accomplishment and well being with a forty minute ride designed to jump start your body and spirit!




SPIN FOR WINE THURSDAY...S4WT! Perfect for your mind, body and spirit, riders of all levels are welcome and are instructed to modify the workout to your ability. In this 50 minute class, the instructor will encourage you past your comfort zone through resistance and speed training and high intensity TABATA intervals. We will work hard and as a reward for that hard work, we get to enjoy a healthy snack and heart healthy glass of wine!