Debra Brando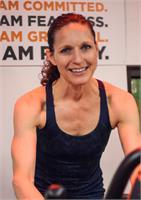 Debi graduated from Slippery Rock University of PA with a Bachelors in Physical Education and Emphasis in Lifetime Fitness. She has certifications in the following. AFAA Group Exercise Instructor,TABATA BOOTCAMP, BEACHBODY PIYO and
MAD DOGG SPIN.
She enjoys training members at ALL fitness levels. Debi finds it especially rewarding to take part in an individual's fitness journey and assist them in attaining their goals.
One of Debi's favorite quotes, although referring to Yoga, is a belief that she strives to carry out in all of my classes and personal training sessions: "The Yogic Practice is a silent path that enriches you from within- use it as a measure to center yourself peacefully and not as a route to establish your inferiority or superiority to another" ~Doreen Virtue(ANGELS)
Debra Brando instructs the following:
In this split class formula, you will spend equal parts riding and working on full body strength with highly effective movements derived from Barre, Pilates, and Yoga. Great for your core, balance and mood!